Dan Hennah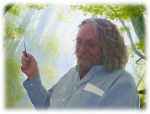 We are thrilled to announce that Dan Hennah is going to be our media guest of honour. Dan is supervising art director on Peter Jackson's Lord of the Rings project.
Update February 2002
Dan Hennah is nominated for an Oscar!
It's official! Lord of the Rings has received 13 oscar nominations, including one for Best Art Direction - Oscar Nominated Production Designer Grant Major & Set Decorator Dan Hennah. Read more at
The Oscar Site or
The very beautiful LotR site with interviews with the nominated filmakers
Congratulations Dan!
Dan has Art Direction or Production Designer credits on the following films:
The Lord of the Rings: The Fellowship of the Ring (2001)
The Frighteners (1996)
The Rainbow Warrior (1992)
Nate and Hayes (aka Savage Islands) (1983)
Return to Treasure Island (1996) (TV)
Adrift (1993) (TV)
Mesmerized (aka Shocked) (1986)
White Water Summer (1987)
As always with media guests, Dan's appearance will be commitments permitting.