Dale Elvy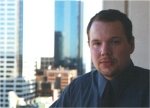 Dale Elvy is an exciting new New Zealand fantasy author.
As a passionate fan of fantasy literature, writing his own books has been the fulfilment of a long held dream. The first book in his Spirit Shinto trilogy, First Hunter, was published in 2000. Book Two in the trilogy Spirit City, will be released in June 2002 in both Australia and New Zealand.
Dale is currently working on the final book Dark Shinto.
Read more about Dale on his web site.